We are so excited to announce the launch of our intra work out supplement, ION AMINOS!!! This product is four years in the making and the only blend of amino and electrolytes currently available on the market.
This amazing product is an electrolyte blend scientifically formulated to restore balance in the body without any unnecessary sugars!
We want you to use this product as your very own intra workout boost to replenish your amino acids and electrolytes.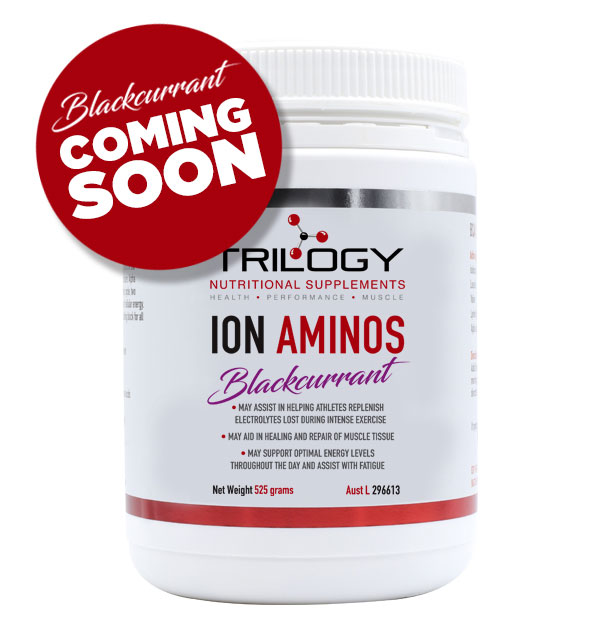 Why combine electrolytes and aminos?
Amino Acids
Let's start with Aminos. You may not know this but your body is made up of about 20% protein. Amino acids are the building blocks of protein and virtually every cell process utilises protein.
So we NEED Amino Acids to function but how do we get them? Our bodies produce 10 of the 20 essential amino acids. We can also ensure our diet includes the various forms of protein. However, it should be noted the body does not store amino acids as it does starch. If you are not consuming the relevant proteins daily, your amino acid levels diminish. This can result in muscle depletion and damage.
A variety of the different amino acids help to repair muscle, build stamina during workouts, maintain our energy levels and regulate our blood sugar, reduce toxicity in the body and strengthen our immune system. And this is only the beginning of what they can do!
Electrolytes
As for electrolytes, our body needs them for our cardiovascular health, adrenal health, diabetes and endurance during exercise. Put simply, electrolytes conduct electrical charges within the body that allow our cells to communicate with each other and perform essential functions.
The adverse effects of low electrolytes within the body include muscle spasms, cramps, nausea and weakness.
It is essential to maintain your electrolytes during your workout (especially if you sweat a lot) to ensure a healthy balance.
The power of combing the two for the ultimate Intra Workout Solution
As we mentioned, this product should be taken during your workout to maintain a healthy balance of amino acids and electrolytes to make the most of your workout. We all know the benefits of pre-workout and post workout supplements, but sometimes intra workout supplements can be overlooked. We wanted to combine amino acids and electrolytes in one powder formula that you can easily mix with your water to drink during your workout.
The sooner you ingest nutrients and protein during your workout the better your body can repair and generate the energy it needs to make the most of your exercises. The key factor of intra workout supplements is that they don't trigger mechanical digestions whilst you're working out. Mechanical digestion is the breakdown of foods and can trigger up to 25% of your blood to aid in the process – not great in the middle of a workout!
In summary, intra workout supplements maximise your performance during a workout without triggering digestion AND they work hand in hand with your pre and post workout solutions.
What's in our ION AMINOS BLEND?
Amongst a variety of goodies, we have the following in our ION AMINOS Blend:
Vitamin C – Vitamin C plays an important role in collagen synthesis which is your skin elasticity. The perfect vitamin to prevent ageing and fine lines amongst other things.
Vitamin B – Not only is vitamin B essential for general health, Vitamin B Complex improves cognitive performance and maintains energy and mood levels. The Vitamin B supplement effectively reduces our stress levels.
Magnesium – Magnesium helps to move electrolytes like sodium and potassium around your cells. Low magnesium can result in muscle spasms and cramps amongst other factors.
Sodium and Potassium – Electrolytes such as sodium and potassium help cells to generate energy and maintain stability.  Sodium is a significant part of water regulation in the body and it helps to signal your muscles and brain to work.
What you won't find in ION AMINOS…
Only the best of the best ingredients are used and this product contains no gluten, transfats, lactose, wheat, egg, yeast, corn or any artificial flavours, colours or sweeteners. There are also no non-GMO products in the making of ION AMINOS.
The benefits of ION AMINOS
Where do we start? We are so proud of this product and it's many benefits. Check them out below.
ION AMINOS supports antioxidant defence. This means that it helps to protect your cells against damage from free radicals. The chain reaction or oxidation results in your cells being depleted of electrons, rendering the cells ability to function as it should normally. Increased production of free radicals can attribute to nerve cell injury and the acceleration of disease. It's important to replenish your electrolytes and support your immune system during intense workouts with ION AMINOS.
Aids in the healing and repair of muscle tissue during your workout without triggering digestion.
Supports energy levels throughout the day thanks to the amino acids and electrolytes.
Supports exercise endurance and muscle strength.
When can you buy it?
Our ION AMINOS Intra Workout in Orange flavour is available online now here!!
Simply mix the powder with water or in your shakes as you would with the Trilogy Super Fruits and Greens. Our Blackcurrent flavour will be available soon.
Stay up to date with all of our product launches via our Instagram page @trilogynutrition